Member of the US House of Representatives Committee on Energy and Commerce, Joe Pitts, has acclaimed the Kingdom's advancement in the renewable energy sector and praised the Jordanian-USA strategic partnership in developmental fields.
Leading a delegation to a 117 MW wind power project in Tafilah governorate, the congressman also noted the role played by the United States Agency for International Development (USAID) and other agencies in supporting such ventures in the vital and economic sector.
The Tafila Wind Farm energy project has 38 turbines, each with a 100 meters high tower designed with cutting-edge technology and generate 3.5 per cent of the gross national electricity consumption .
The project saves $ 50 million a year of producing electricity costs, therefore; reducing the burden of national energy bill.
The Chairman of the Board of Jordan Wind Project Company, Samer Judeh, said the Tafilah project has turned into a popular destination for professional and academic institutions, tourism and trade unions visiting southern Jordan.
He added high level delegation's visit reflects the growing global attention given to renewable energy projects in Jordan.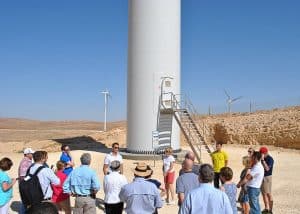 Source: Petra, Jordan News Agency